Above: Pat & Marty Election Night / Below: Candidate & Pat Election Day 2010-- Scroll down for more: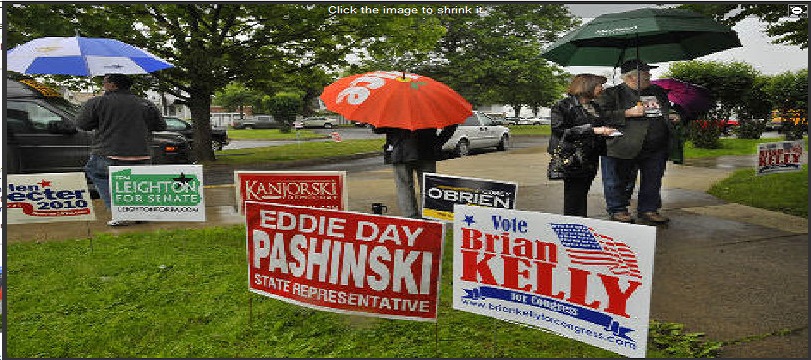 If you enjoy the articles on this site, please consider donating to defray the costs and help pay the costs of running.  
Home
Political Humor: What is a politician?
Details

Category:

Great Emails

Hits: 13
I regularly fight people who call me a politician. I am not a politician. When most people think of a politician they mean a person with few values other than greed, narcissism, and a me-first attitude.
A a formal definition of the word politician in this light is as follows:    
"A person who acts in a manipulative and devious way, typically to gain advancement within an organization"
I have another definition of my own: "A politician is a person who once elected, decides to go for a second term."
Many Brian Kelly Books are available at BookHawkers.com
Details

Category:

Books By Brian Kelly

Hits: 1042
If you would like to see other articles on a number of patriotic topics, feel free to visit www.brianwkelly.com. Brian's 2016 plan is to serve one term in Congress in the House and follow it up with one term in the US Senate.  Recent work by Brian was once hosted by conservative action alerts. This patriotic site unfortunately did not survive. To keep his content alive, Kelly moved it to his personal web site at www.brianwkelly.com. Enjoy! 
Brian made his first run for Congress in 2010, and with no fund-raisers, he was very pleased to receive 17% of the district vote in a three person race for the Democratic nomination. Since then, Kelly has written many more patriotic books that I would bet you would enjoy. He has written 62 books in all and he has a new book about Notre Dame in process. When you read any books by Brian Kelly, you will quickly agree that many of your friends actually need to read his books to help light the fire of patriotism in their bellies-- just as it exists in yours.
Read more: Many Brian Kelly Books are available at BookHawkers.com
Kelly Running for Congress & Senate Simultaneously
Details

Category:

Press Releases

Hits: 18
Contact:          Brian Kelly's Congress & Senate Campaign  
Email               This email address is being protected from spambots. You need JavaScript enabled to view it.
Date:               January 27, 2016




   ****** PRESS RELEASE ******


First Ever PA / US Candidate Running for the US House and the US Senate Simultaneously!

WB's Brian Kelly Expects to Beat the Odds and Win Both Times!


Will PA choose incumbent politicians who hate the people or a candidate who loves PA & America?


Like you, Congressional Candidate Brian Kelly is disgusted with the current leaders in government. He is asking for voters to forget about what big government can do for them. The results are in and the verdict is "0." Kelly is asking voters to write him in twice -- once in 2016 for Congress and once in 2018 for the US Senate.
Brian hopes to help release our wonderful country from the grips of the socialists and communists.
Read more: Kelly Running for Congress & Senate Simultaneously
Americans Need Not Apply
Details

Category:

Books By Brian Kelly

Hits: 1593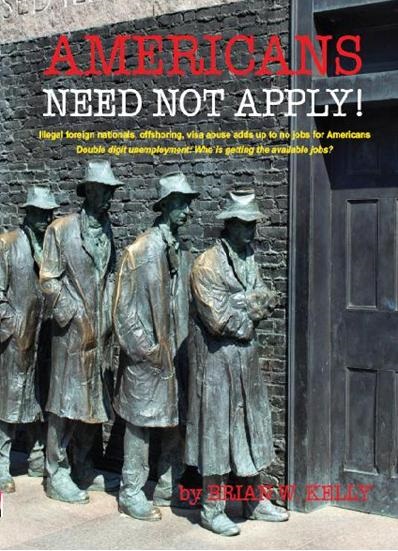 Americans Need Not Apply! 
Irish Need not Apply! Syrians need not apply! Italians need not apply! Spanish need not apply! Polish need not apply! How many of our parents went through tough times in the USA finding bigotry instead of work when they sought employment? You've heard the stories at the dinner table. Eventually our parents all got jobs and America toned down its ethnic prejudices. Today, however, all American citizens are feeling a new kind of prejudice in the workplace. It's an economic prejudice carried out by greedy businesses. It cries out Americans Need Not Apply! You're wasting your time.
Why Should You Vote for Me?
Details

Category:

Platform Points

Hits: 966
Question: I have read a lot of the stuff on your site and, other than that you don't seem to be a normal Democrat, and I am not so sure about that, why should I vote for you?
Answer:  Thanks for the question.  I wrote many of the things on this site myself so I am not sure if you really read them all.  I am not sure that I can convince anybody that I am worthy of their vote. Though the fact that an ordinary guy permits himself or herself to go through this process, I think that unless they have other ideas about a representative democracy, that ought to be enough.  Let me take a crack at this question though it intrinsically annoys me.  Don't hang up early on this... OK?
Who Do You Think You Are?
Details

Category:

Platform Points

Hits: 1043
Question:  Who the heck do you think you are coming out of retirement, never having been in government or politics, and challenging one of the finest representatives NEPA has ever had. Shouldn't you just stay retired?
Answer: Thank you for the question. I ask myself that all the time.  I am really not excited about the prospects of picking up, uprooting my family, and heading to Washington. I worked for several years in New York when I was with IBM, and I was very happy to come back home to Northeastern PA, where I have lived ever since. Yet, I feel I have something to offer and I think it is my time to help.  I do not want to be a politician and I will not become one. But, I think the government of the people is too important to leave it just to politicians. Maybe that gives you an idea of who I am. 
Is Paul Kanjorski a Good Representative?
Details

Category:

Kanjorski

Hits: 1159
Question: Is Paul Kanjorski a good representative for NEPA?
Answer:  Until about 2005, it did not matter that much to me and perhaps many others.  Life was easy in the US and nobody in NEPA was giving Paul Kanjorski a reason to show why he was the best or the worst for the area. When was the last time he had an opponent on the Democrat side?
There had been rumors as well as a Fox News Special about Paul Kanjorski not being as honest as he could have been, but even that expose offered that the Congressman broke no laws.  Additionally, he was exonerated by his peers in Congress. The people of NEPA basically said that Paul Kanjorski is a good enough man that despite the alleged points of controversy, the majority of folks from NEPA chose to believe in the man. 
 
I would have to climb inside of Paul Kanjorski's heart to know the answer to that question of whether he is a good or honest man as it requires me to speculate on his goodness, his honesty, and his concern for the section of NEPA that he represents. I cannot do that. Maybe we all should ask him that?
Why are you running for Congress?
Details

Category:

About the candidate

Hits: 949
Question: Why are you running for Congress?
Answer:  That is a very good question?
As a husband and father, my family was very important in this decision. Two years ago, I considered running and my family and I discussed it at length and I decided not to run. This time, I am getting encouragement, though there is still some trepidation about the potential impact on our family unit.  We'd like to remain reasonably private and regular people. At the same time, there are other factors.
My family agrees that things are not as good in America as we would like.  I would be happy my candidacy to defer to a like-minded person if one shows up. Short of that there are a lot of things that are wrong, with our country,  and I would love the opportunity to get my hands dirty to help fix them. I am at the right time of my life and I see no reason why I should stand by and watch as my family's liberties, both economic and civil, are being wiped out by our own government.
Constitution of the United States
Details

Category:

Good Government

Hits: 1585
Are you a DINO 2016 Update?
Details

Category:

About the candidate

Hits: 899
Question: Are You a Democrat in Name Only (DINO)?
Answer:  That is a great question.  I may not know the answer to that question but I will tell you how I feel.  A long time ago, when I was a kid, I believed the Democrat party was the party of the people. Though I started out as an Independent, I became a Democrat in my early twenties because of the principles of the Democrat Party. My father believed in these principles and he taught me them at the time.  Democrats represented the ordinary people and the Republicans represented business. The people needed good representation from the Democratic Party because big business already had the Republicans.
Initiation, Referendum, & Recall
Details

Category:

Good Government

Hits: 1385
Initiative, Referendum, and Recall
Initiative, Referendum, and Recall are fundamental precepts of a direct democracy. Ours of course is a representative democracy with a Constitution as a defining document just in case the lawmakers in all branches ever were to go astray -- all at the same time.  With three branches of government, one would think that the parts could keep honesty and the people's business at the top of their lists.  Instead, being Democrat or Republican appears to be more important today than being a good representative whether in the House, the Senate, the Presidency, or even the Supreme Court. 
And, so, it sure seems that rather than separation of powers, we now have collusion by party. The party's influence is only to help in the elections and then the good of the country is supposed to prevail.  The party affiliations should be left in the outside area of the Halls of Congress.
Platform Bullets
Details

Category:

Platform Points

Hits: 1779
Please read the items well as they are categorized in alphabetic order. The items within the categories are arranged in no significant sequence.   
Vote for the 2016 Congressional Underdog!
Details

Category:

Voter Suggestions

Hits: 1366
BRIAN KELLY ASKS PA 17TH CONGRESSIONAL DISTRICT VOTERS TO DO THE AMERICAN THING: "VOTE FOR THE UNDERDOG."
 
After a lot of thought, Brian Kelly, a lifelong Democrat, not a Socialist, or Communist such as Matt Cartwright, launched his write-in campaign for Congress in January 2016. Why is Kelly not trying to get on the ballot?  For 1000 verified signatures, at least 1500 would be required. To accomplish this a candidate not willing to pay $5.00 a signature for such a service as most politicians do, a regular citizen would have to devote 250 hours to collect.the required number of signatures. At eight hours per day, this would take about 32 days to accomplish. But, there are only 21 days permitted by the state. You are not permitted to start early or finish late. You have to have each sheet notarized at your expense, and you have to drive the petitions to Harrisburg and wait in line for two hours to have each signature go through a preliminary evaluation. If you are one signature short after verification, you are o-u-t.  This is a formidable obstacle. it is designed by politicians so that only incumbents or entrenched politicians could afford the time or expense to run for Congress. Anybody with a real job is immediately excluded.
Kelly told his supporters what he was all about and that he believed he could win the primary election as a write-in candidate. Kelly's plan is to win the nomination and then in the fall, win the election. He still believes that what separates himself from Matt Cartwright is that he is not a politician, has never been a politician and does not ever want to be a politician. Moreover, Cartwright is a Socialist on most matters and a Communist on many others. He has not represented the people well and he deserves tobe thrown out. Kelly is prepared to do his partto make sure this happens.
How Is the US Doing?
Details

Category:

Bad Government

Hits: 1021
Did We Really Need Change?
Details

Category:

No Help from Obama

Hits: 1145
Do We Really Need Change?
In a word, "yes."   
We needed change from a number of the policies of the Bush Administration.  All ills are not Obama ills though most of the deadly ones definitely are.
 
Whether George Bush was really bad or not is debatable but the Country surely was suffering from Bush fatigue and Bush.  Eight years or so earlier, the country suffered the same malady with Clinton fatigue.
Brian Kelly Background, Plans, & Ideations
Details

Category:

About the candidate

Hits: 1227
   Business and Information Technology Consultant
  Assistant Professor, Business Information technology
  42 books,
  Numerous articles (more articles than books)
Brian Kelly  believes in the effort to restore reverence for God and respect for the unalienable rights to life and liberty in America.
TEA Party Backs Brian Kelly
Unpublished
Details

Category:

Endorsements and Other Support

Hits: 1831
INDEPENDENCE HALL TEA PARTY PAC ENDORSES DEMOCRAT BRIAN KELLY FOR PA 11TH CONGRESSIONAL DISTRICT 
 
Wilkes-Barre, PA – May 7, 2010 --  11th  Congressional District candidate Brian Kelly received the endorsement of the Independence Hall Tea Party PAC. Kelly was on hand to receive the endorsement. When he spoke to the crowd, Kelly was interrupted three times for applause.  Kelly is the only Democrat in the three state area (Pennsylvania, New Jersey, and Delaware) in which the Independence Hall Tea Party Operates, to receive this prestigious endorsement.  
 
The endorsement was announced Sunday in Philadelphia.